03-11-2011
NEEDISON
Al jullie moeite en mail heeft niet mogen baten.
Met maar een aantal stemmen verschil hebben we de Edison niet gewonnen. We vinden het heel erg jammer maar willen jullie wel heeeeeel erg bedanken voor de inzet en support.
Die is hartverwarmend!
Er zijn geen verliezers maar winnaars en wellicht ben JIJ wel een van die
winnaars die binnenkort door ons wordt uitgenodigd om gratis een Trinta
theaterconcert bij te wonen.
Dus, hou je mail in de gaten èn check in de tussentijd onze
agenda
als je echt niet kan wachten en sowieso verzekerd wilt zijn van een kaartje voor Sensuàl in de theaters.
Met opgeheven hoofd en een portie 'tique-tim' groeten wij jullie!
Um abraço,
Sensuàl
...
24-08-2011
Hello!
Hello!
Hopefully you all had an excellent vacation.
We have and are looking forward in seeing you again at our concerts.
From September we will start playing at the theaters again but you will also be able to see us play at some festivals in August and September. Be sure to check our agenda for dates. In the meanwhile we are still keeping our fingers crossed for an Edison. Thanks so much for all your votes! On September the 1st we will hear if Sensuàl made it to the final top 3. If so, you'll be the first to know!
Till next time!
um abraço, Sensuàl...
11-01-2011
Hi everybody...
Welcome to our first official blog!
Eventhough we've already reached the 11th day of this brand new year, Sensuàl wishes you all the best for 2011 ( I guess we're still allowed to do so ). May all your dreams, desires and goals be fulfilled. One of our goals has already been fulfilled; we've released our third album 'Trinta' ( Which means 'Thirty', by the way ). Check out our 'YouTube' account to see video footage of the recordings and everything that happened behind the scenes ( like eating spaghetti ice-cream, watching football and playing table-tennis ) during our stay in SUPOW studios in Cologne, last summer.
We started of 2011 with the 'reprise' of our 'Brazilian Jazz 'n Grooves' theatertour. In this tour, originally directed by Leoni Jansen, we tell the stories behind the songs and give you an inside in how we write our music. We had lots of fun setting up this tour and ofcourse we hope to see you at one of our concerts. Tourdates, Twitter, Facebook, YouTube, photos, news and more can be found on our new website. Have a look around and feel free to leave a message on our board.
Até logo and a abraço,
Eva and the boys from Sensuàl
...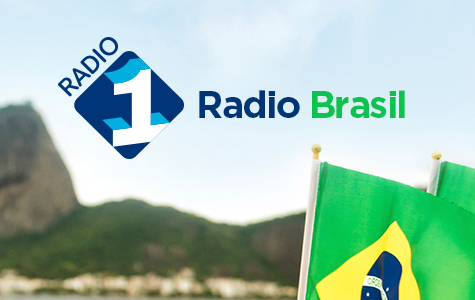 24-06-2014 Radio 1 - Radio Brasil
We have been invited to play and talk at Radio 1 - Radio Brasil coming Friday the 27th of June. See and hear us play live: http://www.radio1.nl/radiobrasil between 19h - 22h. Hopefully we will talk and play music instead of talking about football as I believe Sensuàl has a serious lack of football knowledge. #WKBrazil
---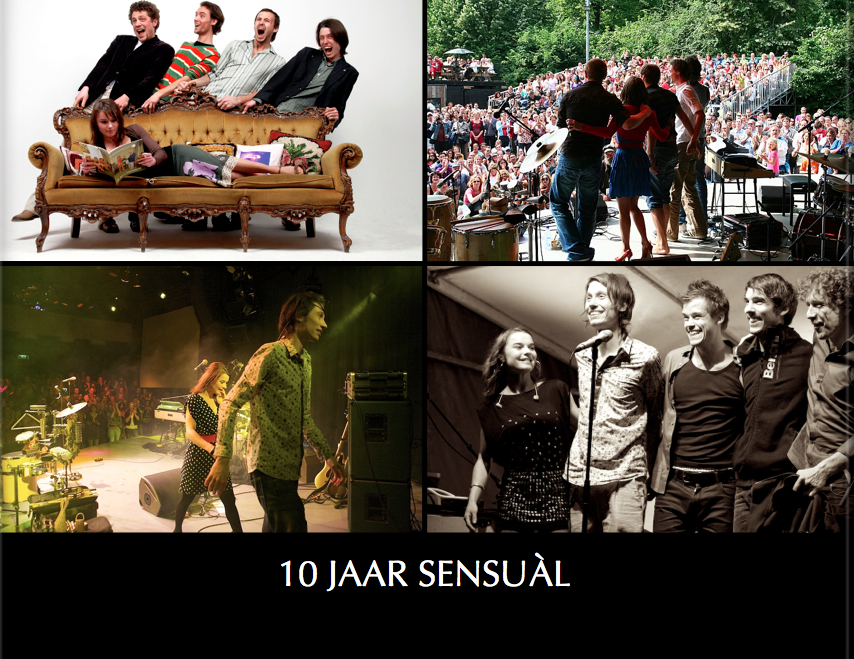 13-05-2013 10 YEARS.....
Just a short 'thank you' to everyone who has supported us over the last 10 years. Yes, we celebrate our 10 year anniversary. Wow!!
We had fun playing at the Breda Jazz Festival last weekend for the 8th time.
Check out the
photos
made by our photographer-friend
Ron Beenen
.
We hope to see you soon!
---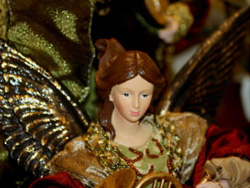 24-12-2012 Holy Night TV
Merry Christmas to all of you!
Eva & Emiel were invited by the IKON to play 'Sabe de mim' at tv
program
'Helige Nacht'
(Holy Night) which will be aired on Christmas Eve, Monday the 24rd of December at 22h15 on Ned.2. On the 26th of December the program will be aired again at 10 a.m. on Ned.2.
Can't wait until the 26th of December? Check our song from 5:50min by clicking this
link
!
---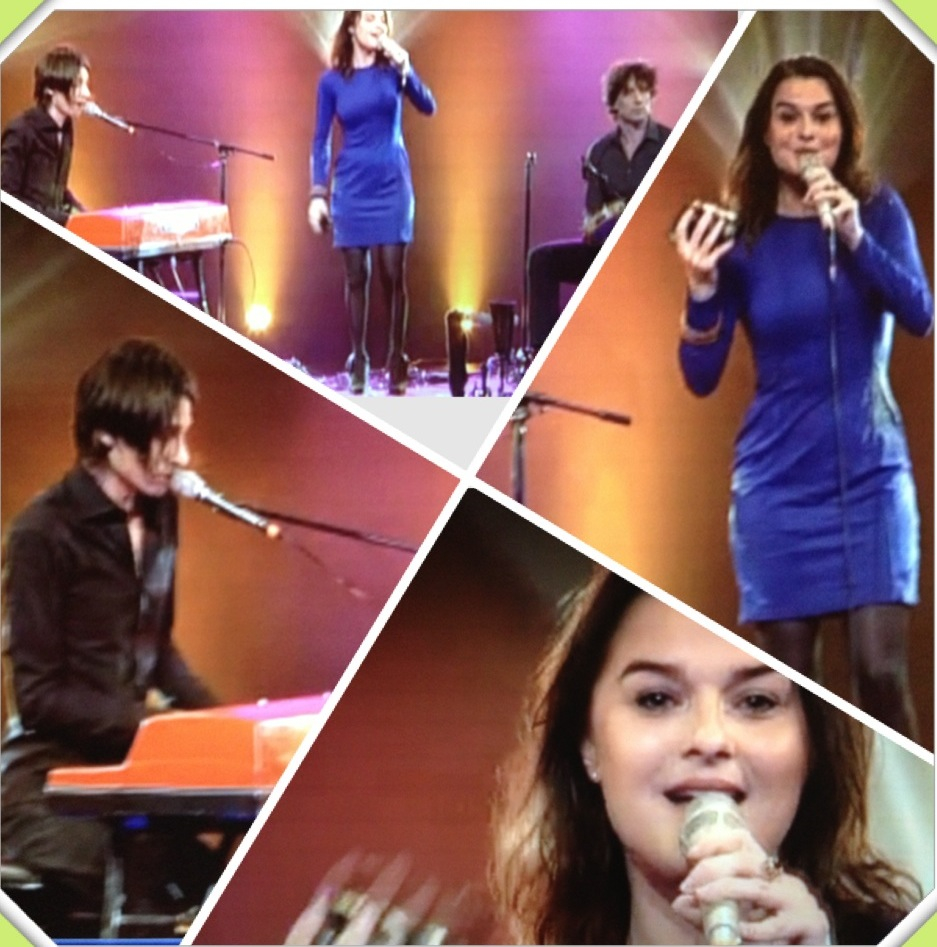 17-12-2012 Go for Gold...
Sensuàl was invited to play two songs at the Limburg Go for Gold Sportgala which was live broadcasted by L1, TV Limburg.
Check the
link
to see our performance at the very beginning and at the very end of the gala.
---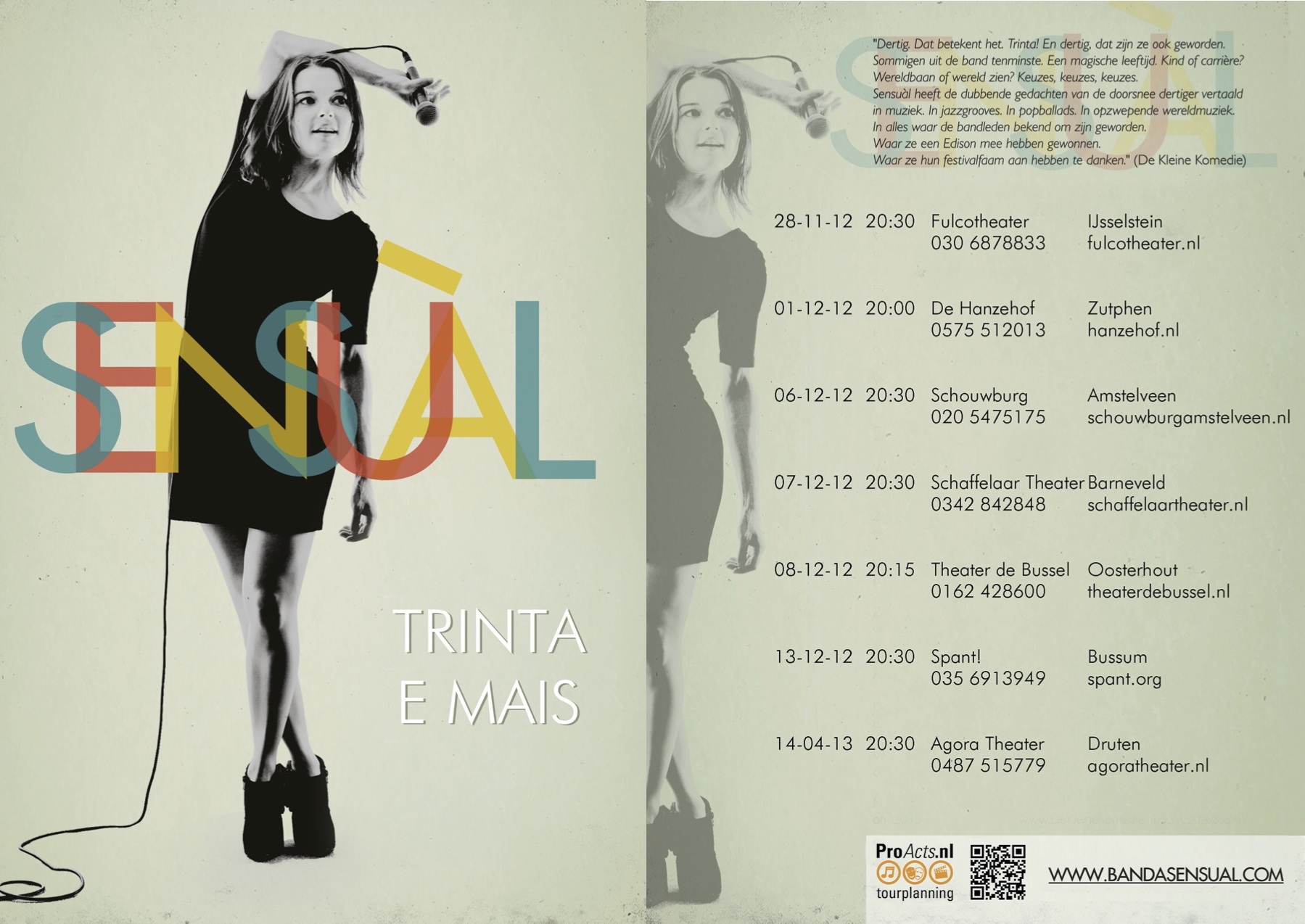 04-11-2012 Trinta e Mais
Hello! Oi! Hoi!
We are excited to tell you we are touring in the Dutch theaters again this year with a 'reprise' of our 'Trinta' tour: Trinta e mais (Trinta and more)
Check out the dates in our agenda and on our flyer!
It would be great to see you at one (or two, or mais) of our theaterconcerts!
---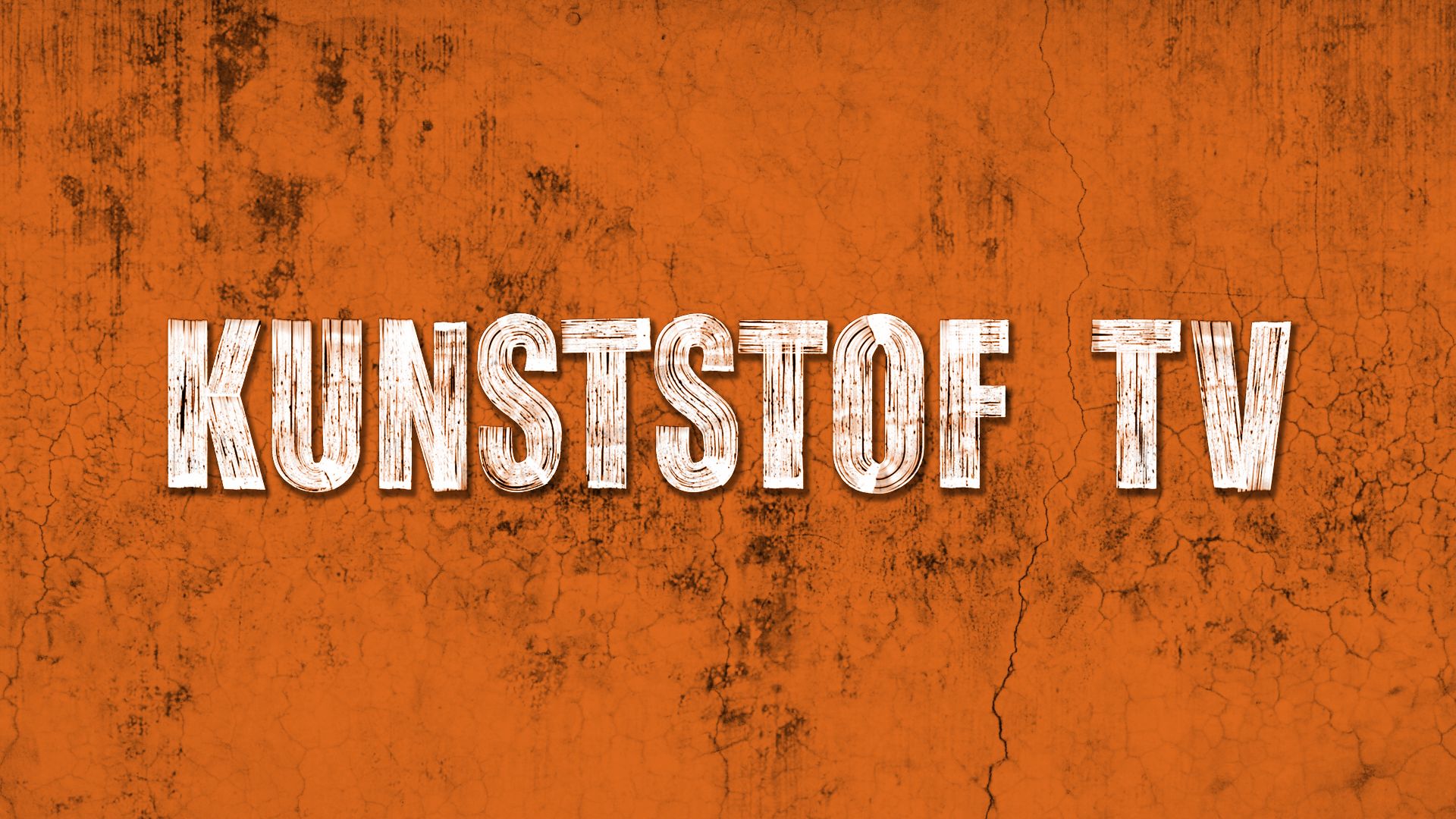 26-08-2012 Kunststof TV
Sensuàl was invited to play at Kunststof TV.
Recorded live from the Uitmarkt on Museumplein. Amsterdam
We played Samba na cama
here
and check out the interview Eva had (starts at 27:39):
http://www.uitzendinggemist.nl/afleveringen/1284260
---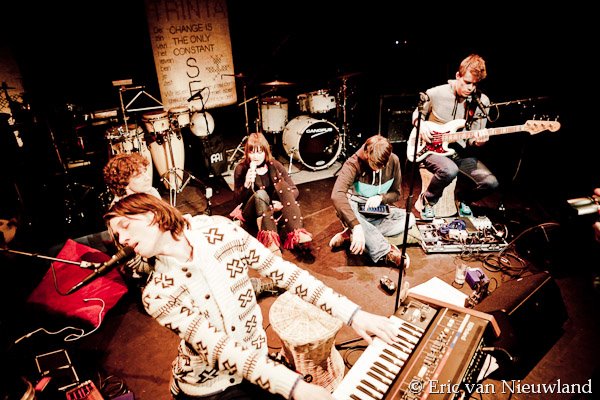 13-02-2012 Review Trinta at 'de Kleine Komedie' Amsterdam...
Check out a review of our final concert of the 'Trinta' theatertour in 'de Kleine Komedie' on
Gooddayz
.
---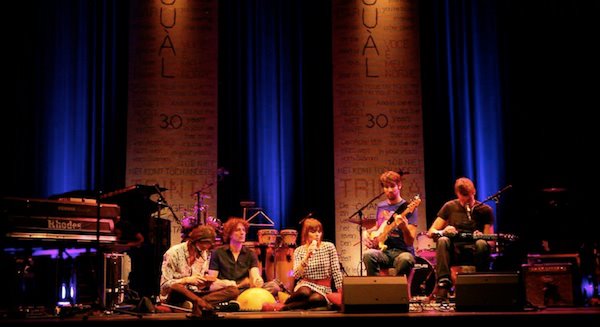 07-02-2012 Finale of our Trinta Tour...
We had such a great time yesterday evening at the Kleine Komedie where we completed our Trinta Tour. Check out our
Facebook
for videos and photos. We will be back with a reprise of our Trinta tour in the fall. In the meanwhile we started writing on new material and we are busy booking the summer festivals. Thanks everyone for your enormous support. See you soon!
(Photo by Ron Beenen)
---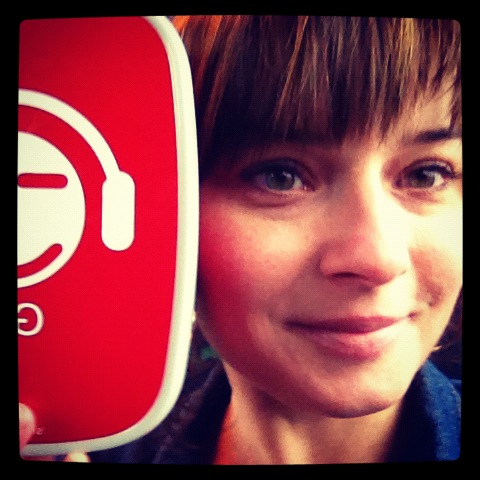 30-01-2012 Giel Mobiel...
This morning Eva was the proud owner of the 'Giel Mobiel'. A mobile phone from 3FM DJ Giel Beelen which goes from one to the other artist. Jasper van Hulten ( Sensuàl old drummer) was the one who handed the phone over to Eva. Check the video made by 3FM
here
!
---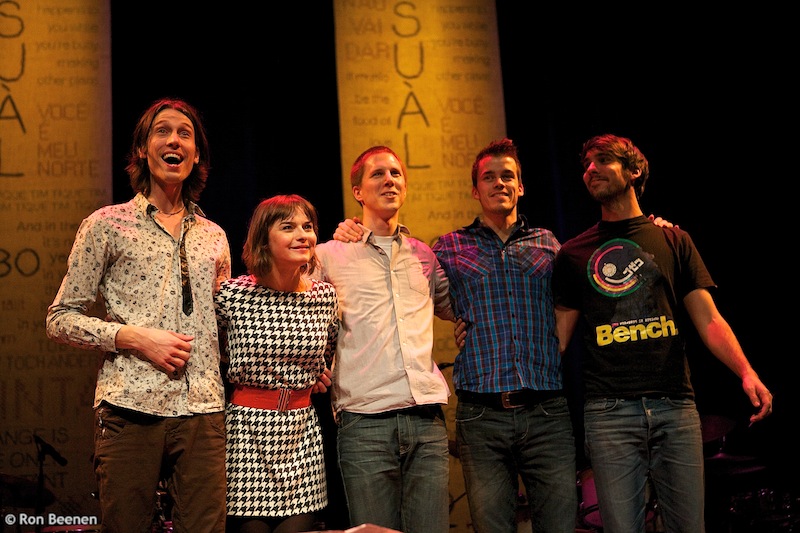 15-01-2012 Trinta Theater Tour...
We are having so much fun playing our Trinta tour. Thanks for all your support and enthusiasm. There are still a few concerts on our Trinta tourlist. We hope to see you in Zwolle, Heerlen, Amsterdam and so on.
---
02-01-2012 Happy Newyear!! Feliz ano novo!!
Sensuàl wishes everyone a loving, musical, happy and healthy 2012.
Thanks so much for your support and we hope to see you again soon this year. Our first Trinta theaterconcert will be on
Friday the 6th of January in Roosendaal.
Hugs!
Eva, Emiel, Rik, Tim and Udo
---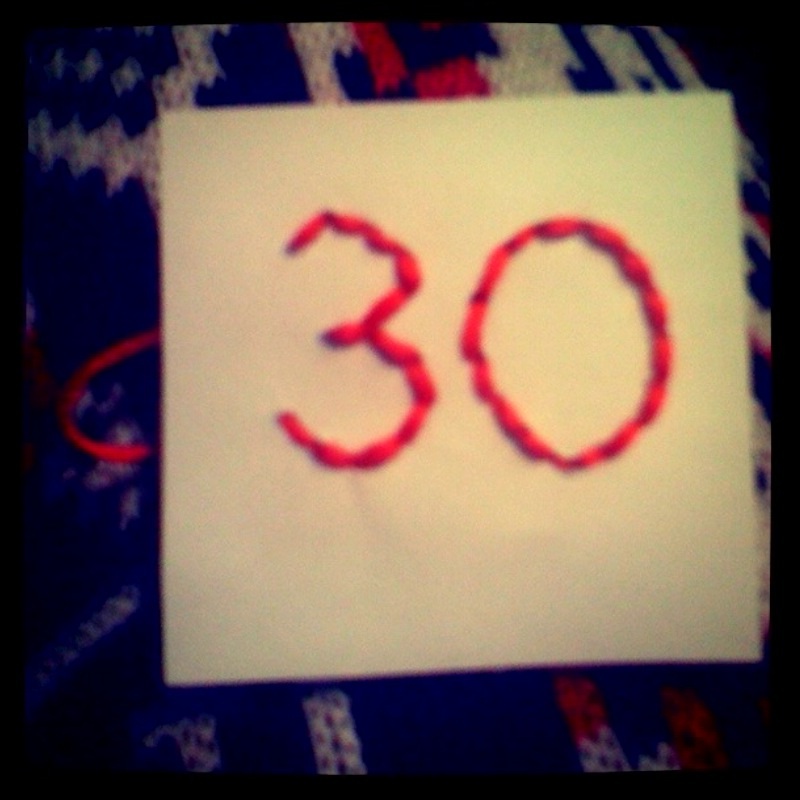 28-11-2011 30 Theater Tour
We spent the day embroiding the alphabet and ofcourse number 30 for our upcoming theater tour. Check our
agenda
if you want to see the result on stage.
---
03-11-2011 NEEDISON
Al jullie moeite en mail heeft niet mogen baten.
Met maar een aantal stemmen verschil hebben we de Edison niet gewonnen. We vinden het heel erg jammer maar willen jullie wel heeeeeel erg bedanken voor de inzet en support.
Die is hartverwarmend!
Met opgeheven hoofd en een portie 'Tique-Tim' groeten wij jullie.
Tot in de
theaters
!
---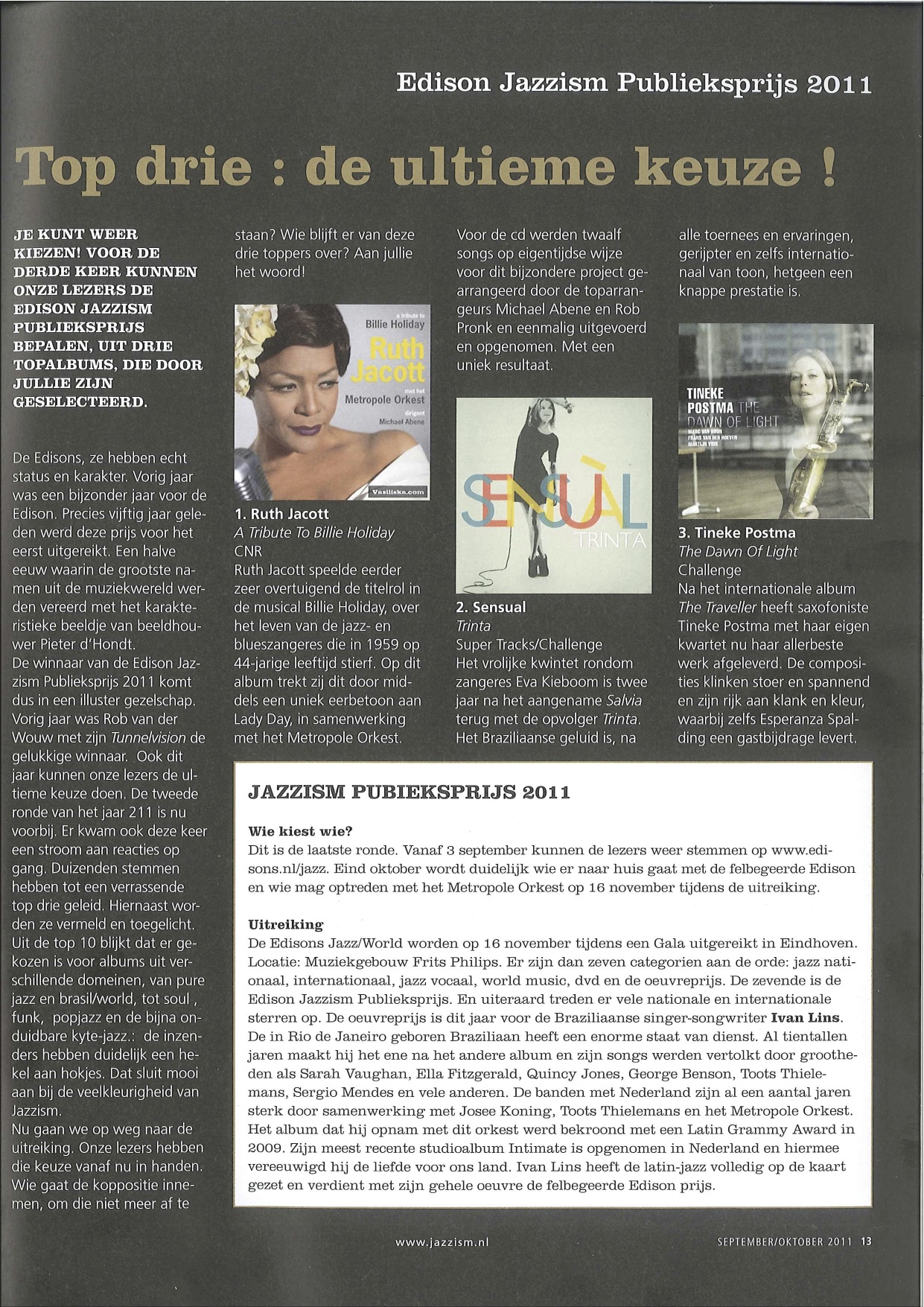 26-09-2011 Edison news Jazzism...
Click on the photo below to read the article in Jazzism about the Edison Nomination top 3.
(Correction: ofcourse the name of our 2nd album is 'Salve' instead of 'Salvia')
---
02-09-2011 EDISON for TRINTA?
Thanks to YOUR votes, our album TRINTA made it to the final Edison nomination Top3!. We would like to ask you to VOTE for Trinta once again to help us win the Edison Award.
You can vote
here
!
Be sure to confirm your vote by clicking on the link you will receive in an email after you've voted!
---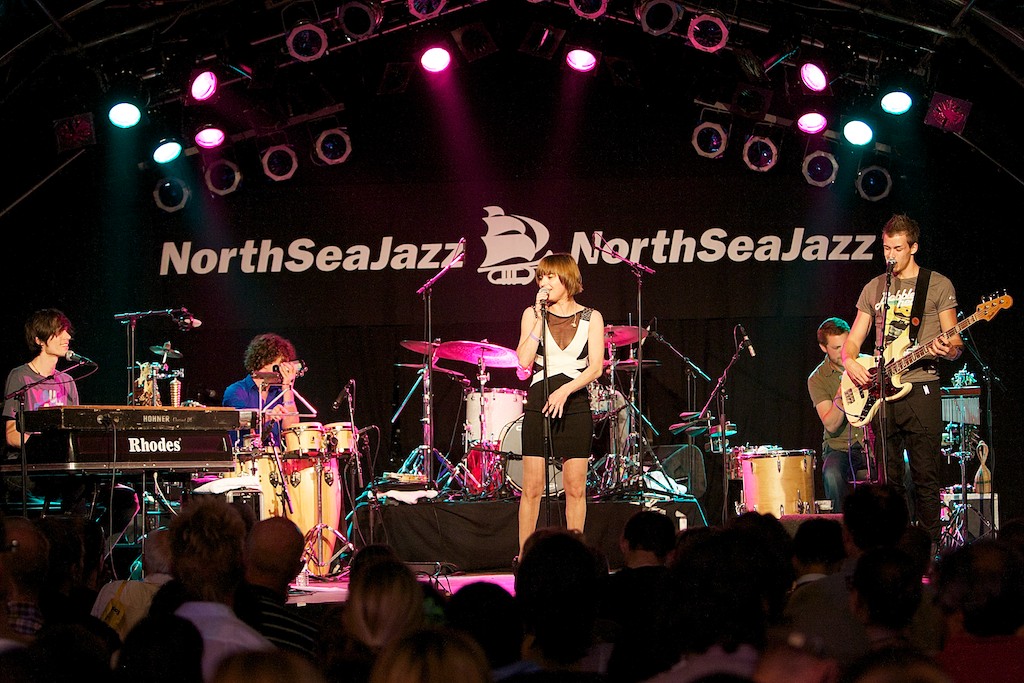 14-07-2011 North Sea Jazz...
Hello everybody,
We had a blast at the North Sea Jazz Festival this year. Thank you all for coming and supporting us. Check photos and videos from the NSJ on our
website
and
facebook
. We're going on a short vacation now to relax but to also brainstorm about our upcoming
Trinta Theater Tour.
In the meanwhile: don't forget to
VOTE
for our Edison nominated album Trinta. You can vote once per emailadress. You can confirm your vote by clicking the confirmation link in the mail you will receive from Edison. Once again: thanks for your support. Have a great summer!
Um abraço,
Eva, Emiel, Rik, Tim & Udo
(photo by
Ron Beenen
)
---

21-06-2011 Bailandesa about Sensuàl...
Um som com toques de Brasil. Não um som do Brasil
...
Our dear friend Clarissa Mattos has written some nice words (in Portuguese) about Sensuàl. Check it out on her Bailandesa blog
here
!
---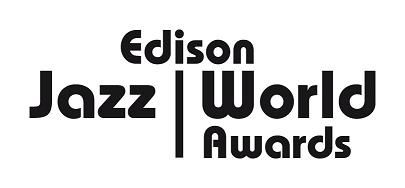 20-06-2011 Trinta nominated for an Edison Award...
Yes! Our album Trinta has been nominated for an Edison Jazzism Award.
All you need to do for us to win this award is VOTE right
here
!
We will be very grateful.
---

09-06-2011 MPB que vem da Holanda - interview
Interview on Radio Nederland Wereldomroep - Brasil
Check out the interview (in Portuguese) Juliana Deodoro had with Eva
here
!
Click on the mediaplayer link on the page to listen to parts of the interview.
---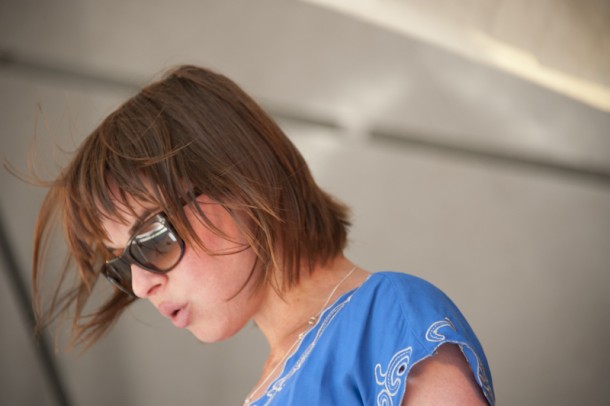 06-06-2011 Concertreview Breda Jazz Festival
SENSUAL VERRASSEND ZUID-AMERIKAANS TIJDENS JAZZFESTIVAL!

06/06/2011 Tijd: 08:05
Auteur: iizzoo
CENTRUM - Daar het onmogelijk is het enorme en gevarieerde aanbod van het Jazzfestival in zijn geheel te horen en te zien, moet er een keuze worden gemaakt. Dat kan een bezoeker doen door lukraak van het ene podium naar het andere te zwerven en te kijken wat hij tegenkomt.
Dat is een prima methode om de sfeer te proeven en je te laten verrassen. Ook is het mogelijk de lijst van bands en artiesten op de festival-website door te spitten en te kijken wat er van zijn of haar gading is. Misschien minder avontuurlijk, maar toch... Ook dat kan verrassingen van de aangename soort opleveren.
En zo kon je terecht komen bij de band Sensuàl, die op festivaldag drie (naast andere bands) het grote middenpodium op de Grote Markt vulde. De naam klinkt Portugees, maar de band is het niet. Deze puur Nederlandse band met Zuid-Amerikaans geluid werd in 2002 opgericht door zangeres Eva Kieboom en haar buurman Emiel van Rijthoven. Dat is weer eens iets anders dan een burenruzie.
Sensuàl is namelijk typisch zo'n band die voor een blijde verrassing zorgt op een festival als het Jazzfestival. Het geluid is authentiek en zangeres Eva Kieboom heeft een stem die doet vermoeden dat haar verre voorvaderen ergens in Zuid-Amerika hebben gewoond. Daarnaast komt de uitspraak van het Portugees als perfect over -voor een leek tenminste-, en dat is voor een Nederlandse toch ook niet vanzelfsprekend. Op de website van de band valt niet te ontdekken waar Eva Kieboom dat geleerd heeft.
Een paar nummers zijn genoeg om te beseffen dat dit de ideale muziek is voor warme zomerdagen om te chillen, of voor koude winterdagen om op te warmen. En dat is knap, voor een Nederlandse band. Als dat enthousiast genoeg maakt voor de komende maanden, dus snel maar eens gaan kijken of er een cd van de band te krijgen is. Of eerst even luisteren en kijken op hun website.
Read the review online here!
---
20-04-2011 Great 'Trinta' review on Nederjazz..
Woensdag, april 20, 2011
Zomers mooi: Trinta van Sensuàl
Ach, ik ben al best een lange tijd (sinds vorig najaar) aan het genieten van de liedjes van
Banda Sensual
. En er nog niet toe gekomen om een klein berichtje eraan te wijden. Maar nu is het hoogste tijd heb ik besloten, vooral ook omdat het van deze mooie zomerse dagen zijn. En de muziek van hun album Trinta, uitgekomen in november vorig jaar, past daar gewoon heel erg goed bij.
Het album Trinta heeft een opmerkelijke combinatie van enthousiasme, zomersheid en mooie rust en vredige klanken. En dat is dan als je vooral het muzikale op je in laat werken. Mijn portugees is namelijk niet zo vreselijk goed. Maar ja, toen kwamen in februari ook de
teksten online
en kon ik, met hulp van
Google
, me een beter beeld vormen bij de warmte van het lied tabuleiro verde. Het leek mij te gaan over ons mooie land, dat vanuit de lucht eruit kan zien als een mosaiek groene vierkantjes (en voor zover dat een te poetische interpretatie is, hou ik het daar toch bij). En nog zo'n mooi nummer: Borboleta. Over transformatie, zowel de letterlijke van rups naar vlinder als de persoonlijke. Met bijpassende modulatie aan het einde, als muzikale transformatie. En dan Samba da Cama, opgewekt, levendig over de liefde.
Stuk voor stuk zijn de verschillende liedjes heel mooi, ze zijn zorgvuldig gemaakt, opgenomen en die kwaliteits-aandacht hoor je het hele album door. Met een mooie onderliggende thematiek van de dolende dertiger(s), die -zover ik kan beoordelen- muzikaal gezien helemaal niet de weg kwijt zijn, maar er juist in slagen dat gevoel met knipoog te verwoorden. En zoals ik al zei, Trinta past met zijn warme aandacht, speelplezier en mooie liedjes echt heel goed bij de lente en zomer.
Afijn, heerlijk om nu van te genieten, en als u dat ook wilt, raad ik u aan om zelf zo eens te gaan
luisteren
of te kijken op
youtube
of
in levende lijve
natuurlijk.
Geplaatst door
Jazzjunkie
op
13:00
To view the link
click!
---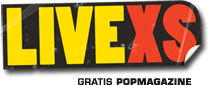 25-02-2011 LIVE XS interview....
Live XS talks to Eva about a.o. the differences in playing in a club, theater, festival or jazzvenue.
You can read the interview
here!
---

17-02-2011 Trinta review in LINDA magazine
---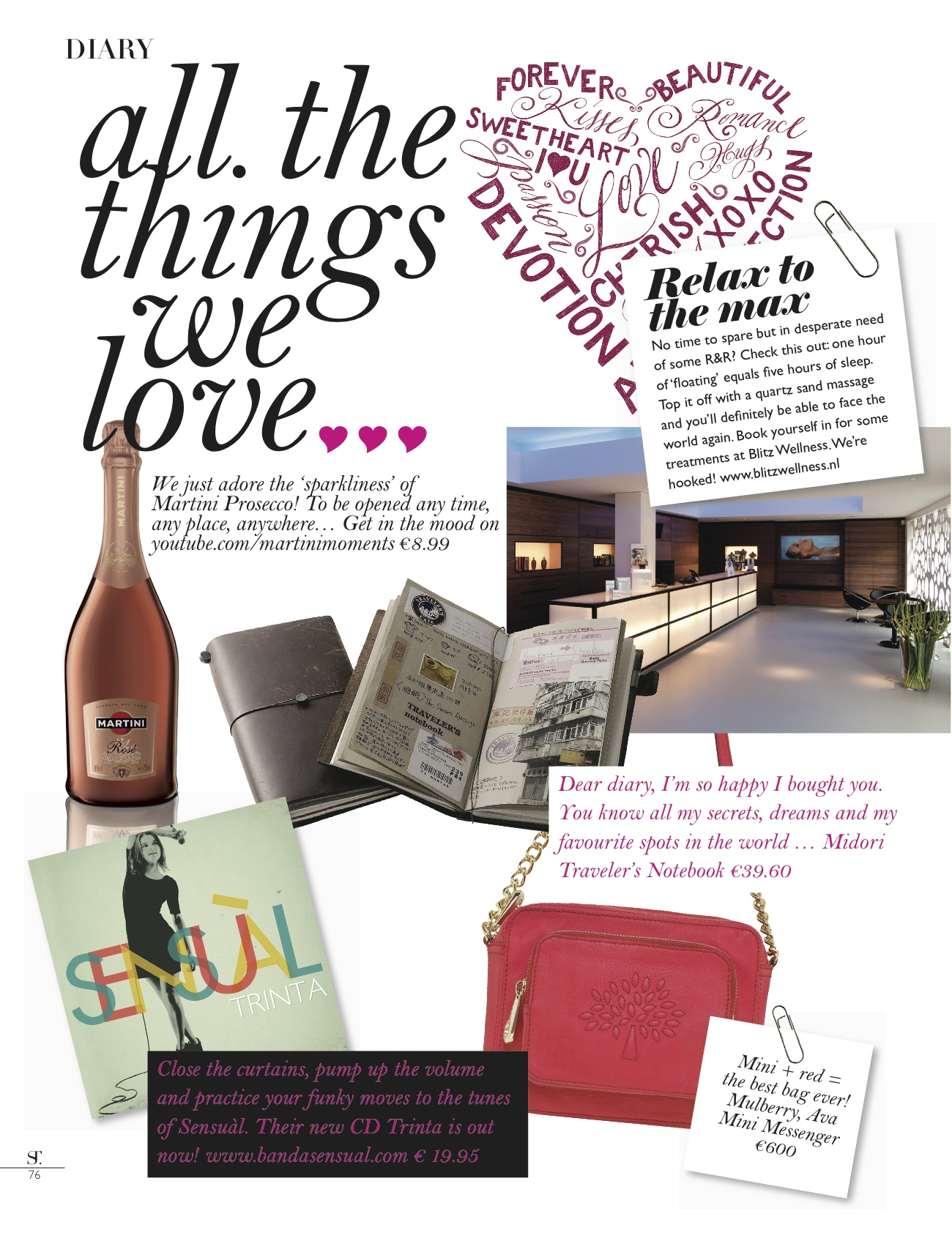 11-02-2011 Sensuàl in Supertrash Magazine
Supertrash
---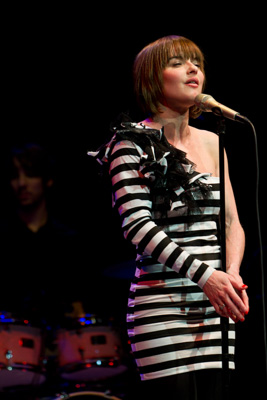 19-01-2011 Sensuàl toont artistieke groei...
Review (in Dutch) of our concert at Lantaren-Venster.
Sensuàl toont artistieke groei met optreden in Lantaren Venster
Door Serge Julien, foto's Eric van Nieuwland (klik voor vergroting)
Gezien: Sensuàl in LantarenVenster in Rotterdam, 8 januari 2011
Als Sensuàl haar openingsnummer 'Você E Meu Norte' in het Rotterdamse LantarenVenster afsluit is het eerste gevoel dat naar boven komt dat deze groep artistiek is gegroeid. Het afwisselend dramatisch en dan weer romantisch klinkende sfeertje wordt door het collectief op zo'n intense wijze gepresenteerd dat het je ademloos achterlaat. Het blijkt de aanzet voor een optreden van een constant hoge kwaliteit.

Sensuàl is het geesteskind van Eva Kieboom en Emiel van Rijthoven. In 2004 brachten zij hun debuutalbum 'Acustico' uit. Een samensmelting van elementen uit pop, jazz en Braziliaanse muziek kenmerken dit album. Hun bewerking van Janis Ian's 'Fly Too High' krijgt een hoop airplay op de radio. De formule wordt naar een hoger niveau getild op het uitstekende 'Salve' uit 2008 dat wordt beloond met een Edison.
Vorig jaar oktober bracht Sensuàl haar derde album 'Trinta' (dertig) uit. De titel verwijst naar het feit dat de meeste groepsleden de dertig hebben bereikt. Die leeftijd brengt doorgaans vragen, twijfels en keuzes met zich mee. Het heeft de artistieke inspiratie van Kieboom en Van Rijthoven in ieder geval geen kwaad gedaan want getuige het optreden in LantarenVenster zijn de nieuwe composities niet alleen verder doorgegroeid, ook de live uitvoering is van niet geringe kwaliteit. Daarnaast hebben Kieboom en Van Rijthoven een aantal nieuwe muzikanten om zich heen verzameld met Rik Kraak op bas, Tim Dudek op drums en Udo Demendt op percussie.

De nummers variëren ritmisch in tempo wat het optreden levendig en in balans houdt. Het funky en dreigend klinkende 'Não Vai Dar' staat tegenover een hypnotiserend golvend 'Tabuleiro Verde' terwijl de afwisseling weer plaatsvindt met de vrolijke en lieve bossa 'Quando'. Kieboom's Portugese zang is een zijdezachte streling die respect afdwingt. Van Rijthoven's geïnspireerde spel op de akoestische piano en warm klinkende Fender Rhodes wordt afgewisseld met spacy geluiden uit zijn Moog synthesizer in bijvoorbeeld 'Porto Seguro'. Nieuwe muzikale ingrediënten zijn er door bijvoorbeeld het gebruik van een kalimba in het dromerige 'Olhos Azuis' dat klein begint en groot eindigt. Dit laatste is sowieso een gegeven dat opvalt en wat de liedjes avontuurlijker maakt ten opzichte van hun eerdere werk dat al naar meer smaakte.
Terwijl de hoofdset wordt afgesloten met het opzwepende 'Trinta' neemt Sensuàl het publiek in de toegift mee in het emotionele 'Não Preciso' dat Kieboom zingt met alleen pianobegeleiding van Van Rijthoven. Als afsluiter wordt publieksfavoriet 'Tique-Tim' ingezet waarna Sensuàl een triomfantelijk optreden afsluit in LantarenVenster.
Het optreden van Sensuàl dat in het teken staat van haar recente album 'Trinta' is een uitgebalanceerde set van liedjes waarin ballads en uptempo nummers elkaar afwisselen. De songs klinken volwassen, fris en tijdloos en zijn artistiek vooruit gegaan met een meer avontuurlijk element dat zich vooral uit in de bloei van een liedje door steeds verdere subtiele muzikale invulling en intense uitvoering.

Sensuàl wordt dan wel vaak geschaard onder het kopje 'Jazz', eigenlijk gaat het hier om meer dan 'Jazz' omdat diverse stijlen worden samengesmolten. Kieboom en Van Rijthoven doen dit op gepassioneerde en vakkundige wijze en maken daarmee Sensuàl tot één van de interessantste groepen van dit moment in het Vaderlandse muzieklandschap. 30 is zo'n slechte leeftijd niet.
Click to see the full review + photos!
---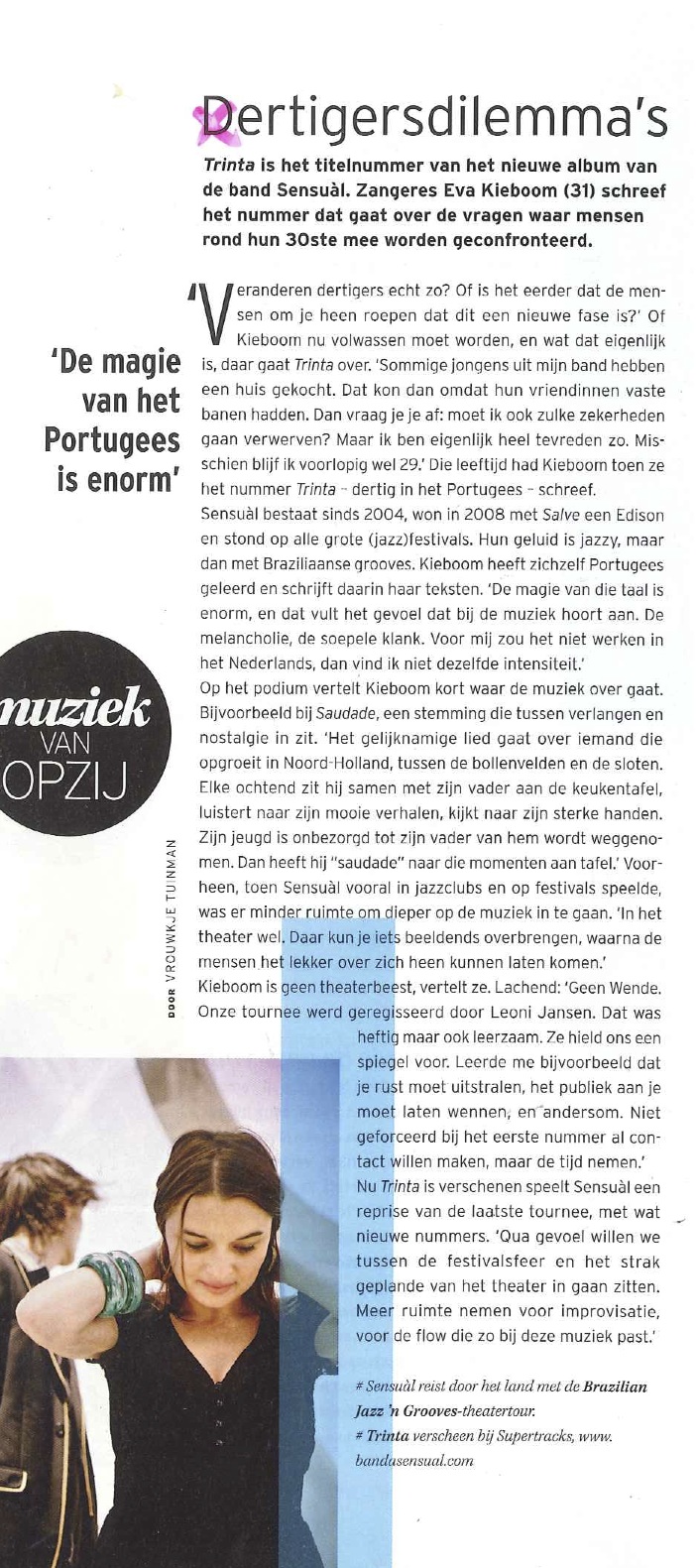 05-01-2011 Sensuàl in Opzij magazine
by Vrouwkje Tuinman
---

04-01-2011 Trinta review on File Under
Reviewed by Guuzbourg
---

03-01-2011 Trinta review on Muziekweb
Reviewed by PdK
---
06-12-2010 Trinta 'cd van de week' @ Radio 6
Sim, Yes, Ja, lots of Sensuàl songs will be played at Radio 6 this week because our album Trinta has been chosen to be 'cd van de week'. We like this very much!
---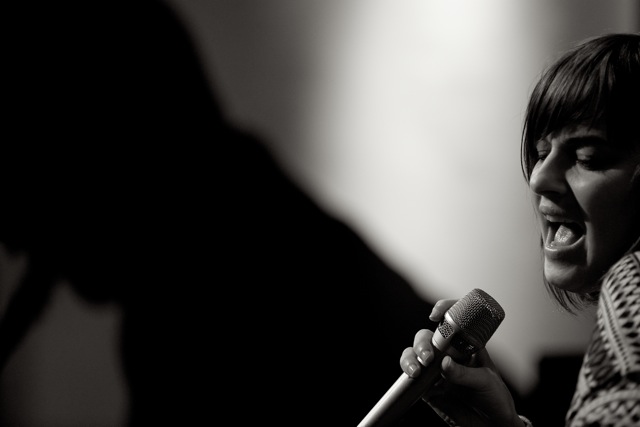 14-11-2010 Audio Mijke's Middag Radio 6
Listen to the full broadcast of Mijke's Middag Radio 6 where we played last Friday.
Click!
---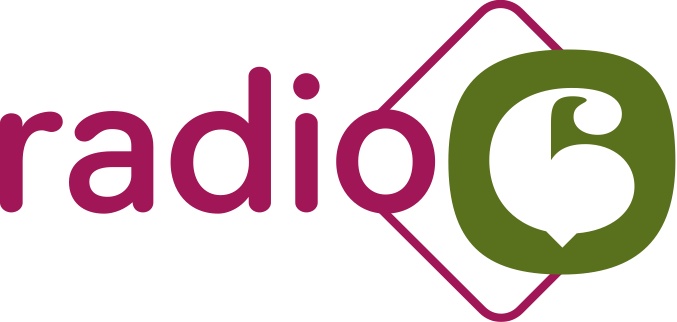 10-11-2010 TRINTA on 'Luisterpaal' Radio 6...
Our new album 'TRINTA' has been placed on the Radio 6 'Luisterpaal'.
Click
---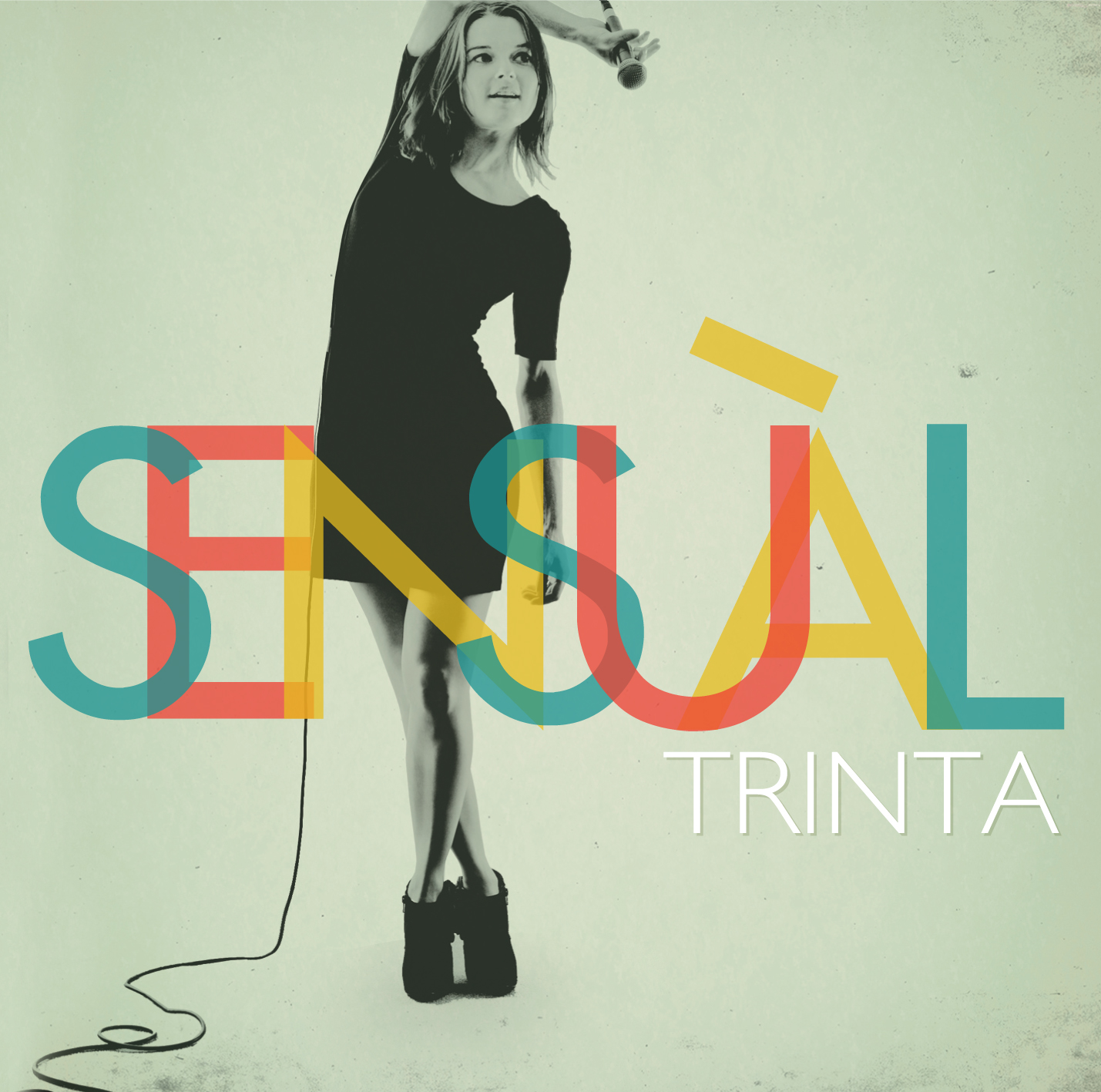 05-11-2010 Trinta on I-tunes
As from today you can buy our new album 'Trinta' on I-tunes.
Click!
---
03-11-2010 Interview 'Zuiderlucht' magazine
On November the 19th Sensuàl will play in the South of Holland at the Nieuwe Nor. Eva has been interviewed by Zuiderlucht magazine about the making of Trinta and her youth in the South.
Click!
---
03-11-2010 The morning after...
Jaap Brienen from 'The Beat' Radio 6 gave Eva an early wake-up call to talk about the Trinta release concert the night before. Have a listen for yourself and find out if she sounds awake or not.
Click!
---
22-10-2010 Voor de mensen met Facebook...
Kijk ook eens op onze facebook pagina, hier komen ook regelmatig nieuwe foto's en filmpjes voorbij, zodat je weer helemaal bij bent rondom Sensuàl
---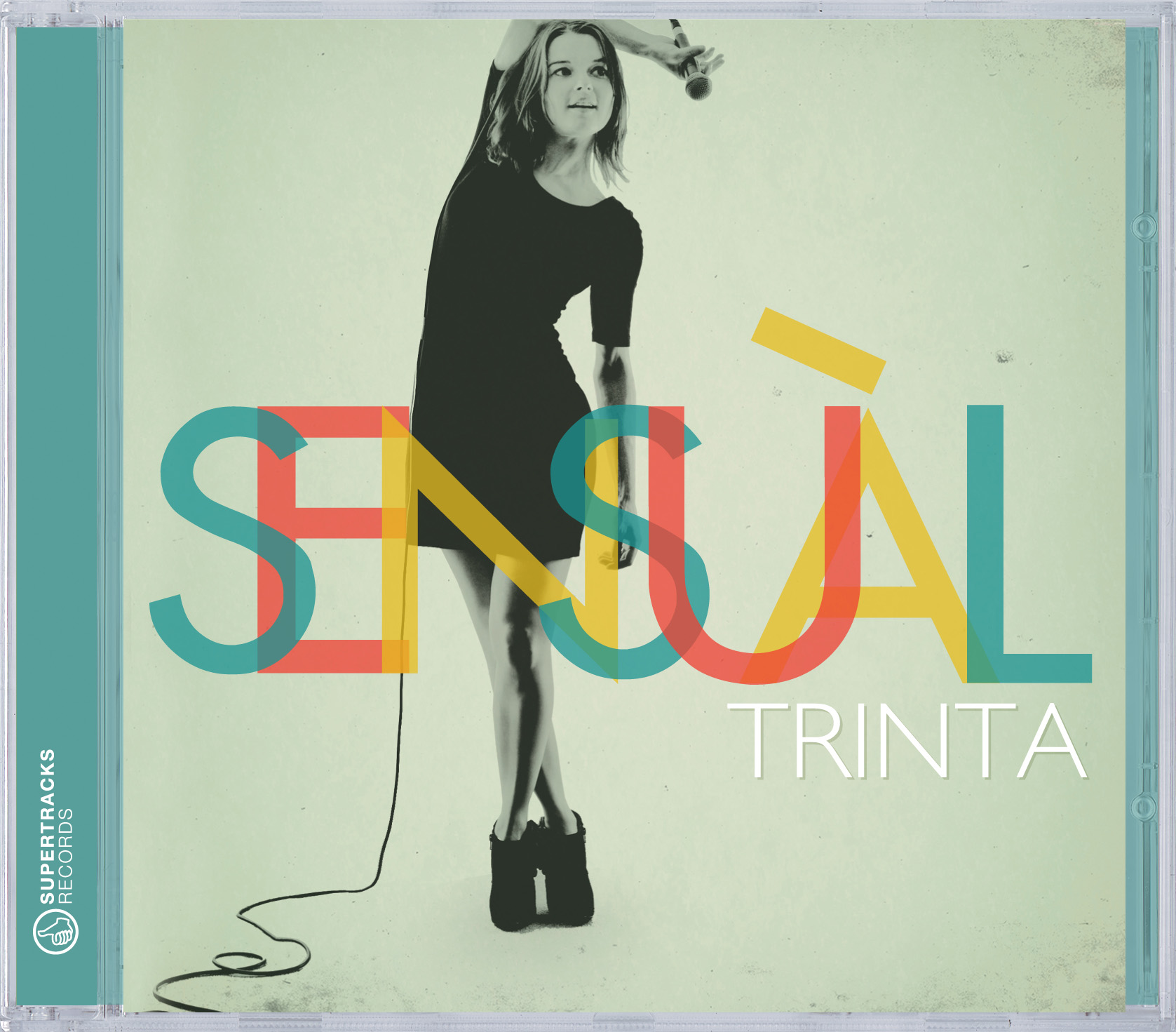 22-10-2010 TRINTA, onze nieuwe cd!
Eindelijk mogen we het aan jullie bekend maken.
TRINTA
is de naam van onze nieuwe cd en zo ziet hij er uit:
De officiele release van TRINTA is op 1 november onder
SUPERTRACKS RECORDS
en half oktober gaat onze single
'Não vai dar'
de lucht in. Kan je nou ècht niet langer meer wachten luister dan hier voor een voorproefje van het album.
Zoals jullie wellicht weten heeft een aantal van ons inmiddels de magische leeftijd dertig behaald. 'Trinta' (dat 'dertig' betekent in het Portugees) beschrijft onder andere de dertigers problematiek. De leeftijd wanneer er nieuwe vragen, twijfels en keuzes op je pad komen. Gelukkig hebben wij met Sensuàl al deze vragen weten om te zetten in muziek met als resultaat een fris, positief en warm album, zoals je van Sensuàl gewend bent! Wil je ons 'live' de nieuwe liedjes horen spelen, kom dan naar een van de concerten van onze clubtour. We trappen af op
9 oktober
in
P60
, Amstelveen en geven op
31
oktober
in
Tivoli de Helling
in onze 'hometown' Utrecht een officieel
TRINTA release concert
. Voor de verdere speeldata: check onze agenda.We hopen je snel te zien!
Groetjes, Sensuàl
---
14-10-2010 Our single on I-tunes...
'Não vai dar' is the first single of our new album 'Trinta'.
You can listen to a preview and buy the single on I-tunes.
---
30-06-2010 Sensual Studio Adventures: Supow Session week 2 - Day 3
Hot, hot, hot + more fans (as in machines that blow air), just as we are in a bit of a stressed mood because we have such little time left in the studio and still sooooo much to do and we're also very very tired. Ok, breathe in, breathe out. We will manage! As my grandmother used to say: "Tob niet, het komt toch anders". Gijs cooked us a nice vegetarian meal which gave us lots of strength (and gas) to proceed recording. To cool down we ate some spaghetti ice-cream again. We finished two more songs today. Tomorrow will bring us a horn section and our friend Rory Ronde on guitar.
---
29-06-2010 Sensual Studio Adventures: Supow Session week 2 - Day 2
The airco-system has arrived, real nice!
Now we are able to work hard without having the feeling that we're going to faint (at) any minute. Yesterday evening at the end of the recording day Rickie showed of with his remote controlled toy helicopter (ehum) and Emiel and Tim got all excited and also wanted to have one. Result: today Emiel and Tim bought a remote controlled toy helicopter. What can I say: Boys will be boys! (Unfortunately Tim's helicopter already crashed and ended up in the bin). Okay, back to business. Tim went wild with the 808 (analog drum machine) to which Rik and I played 'Samba na cama'. Emiel and I also did some crazy backing-vocals. After midnight we started recording (one of my favourite songs of the album, can I say this? Yes, I can!) 'Borboleta' which means 'Butterfly'. At 3 a.m. we called it a day without knowing if the song was finished…..
---
28-06-2010 Sensual Studio Adventures: Supow Session week 2 - Day 1
Cologne: outside it's 31, inside the studio it's 36.
Our limbs felt mooshy, our throats were dry and Simon saved us (again) by bringing us some amazing 'Spaghetti ice-cream'. None of us, apart from Tim, had ever heard about this strange delight before. We thought the heath got to the studio guys when they asked us if we wanted some spaghetti ice-cream. But now I can say, after trying it only once, I'm hooked. Check it out here:
www.spaghettiicecream.com
In the meantime Rik & Tim started a tabletennis tournament, Tim has the lead. Ofcourse next to eating we recorded a new song with the positive title: 'Não vai dar' (It's not gonna happen). Well, it looks like the album is gonna happen! Tomorrow we might have airconditoning, fingers crossed....
---
---